iversity introduces microlearning
New media format Espresso Courses to provide a fast, efficient and compact learning experience | Programme to start with ten e-learning courses
Heidelberg | Wiesbaden, 14 May 2019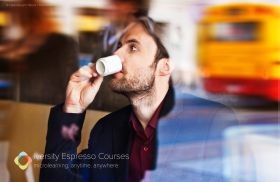 Springer Nature's online learning platform iversity has expanded its product portfolio with a new format called Espresso Courses. These courses focus on "point of need learning", and are designed to impart knowledge in a fast and efficient way. iversity's existing formats PRO courses and MOOCs (Massive Open Online Course), on the other hand, aim to support continuous learning. The first ten Espresso Courses cover a broad range of topics from agile methods and lean management to business communication and marketing to climate change.


Some Espresso courses are being offered in English, while others are available in German. The courses take learners quickly and efficiently through a specific topic; thereby addressing specific learning needs. This new format is based on the principles of microlearning, which helps learners acquire knowledge through small chunks of information.

"iversity's Espresso Courses last about 30 to 40 minutes and include short, explanatory video units that lead through a topic in a simple way, followed by a test to measure the learning effect," explained Suraj Anand, Product and Marketing Manager Distance Education at Springer Nature. Each online course comes with a downloadable Easy Guide which summarises the key facts of the topic. Upon completion of the course, learners can also receive a certificate of participation. The courses are taught by professors from renowned universities or by experienced subject matter experts - many of whom are also Springer book authors.

"Some of our Espresso Courses are developed with cooperation partners such as WWF Germany, while others are offered in close collaboration with our authors and their universities or companies," said Suraj Anand. Some of the video-based courses are created in parallel with a book, and are used to illustrate information, examples and processes covered in the book. The compact Espresso Courses are available at a price range from 29 to 49 Euros. Some courses are funded by the course partners, and learners can access them free of charge as open access espresso MOOCs.
"Introducing Espresso Courses, we provide our authors with an optimized, cutting-edge publication platform. Besides publishing books and journals articles, they can use online courses to disseminate their content across various other channels. Creating such a course is as easy as preparing a book manuscript, and the video format is suitable for illustrating learning content and processes. We are convinced that this option is a perfect fit for authors who want to publish their content in a book + course format. Learners, on the other hand, benefit from the combination of modern online learning tools with sound information from textbooks and reference books," added Merlet Behncke-Braunbeck, Director Distance Learning, Springer Nature.

Similar to the Springer Campus Bachelor's and Master's correspondence courses, iversity's PRO courses, MOOCs and Espresso Courses present the potential to further explore a wide range of new products and features.

"We can rely on our existing contacts which we have successfully established in the book and journal sector, and align the expansion of such course formats with the thematic focus of Springer Nature publications."

Image: © Cleardesign1/IStock/Thinkstock

About iversity
iversity.org is an online platform for eLearning and MOOCs. Since the end of 2017, it has been part of Springer Nature's brand portfolio, and continues to expand its role as leading eLearning platform, already cooperating with over one hundred universities, educational institutions and companies from all over the world. The combination of Springer Nature's high-quality educational and research content with iversity's cutting-edge learning platform offers completely new possibilities in the field of online learning. Additional information: http://iversity.org.
About Springer Nature
Springer Nature is a leading research, educational and professional publisher, providing quality content to our communities through a range of innovative platforms, products and services. Every day, around the globe, our imprints, books, journals and resources reach millions of people – helping researchers, students, teachers and professionals to discover, learn and achieve more. Through our family of brands, we aim to serve and support the research, education and professional communities by putting them at the heart of all we do, delivering the highest possible standards in content and technology, and helping shape the future of publishing for their benefit and for society overall. Visit: springernature.com/group and follow @SpringerNature.

Further Information
More information on iversity's Espresso courses: https://iversity.org/de/espresso
Link to iversity's online platform: https://iversity.org
Contact
Melanie Lehnert-Bechle | Springer Nature | Communications
tel +49 6221 487 8122 | melanie.lehnert@springernature.com