Springer Nature partners with FLTRP in promoting Chinese thought and culture overseas
New English book series called Key Concepts in Chinese Thought and Culture to be published
Beijing, 25 August 2016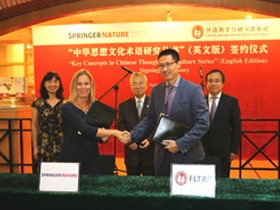 Springer Nature has reached an agreement with the Foreign Language Teaching and Research Press (FLTRP) in publishing an English book series called Key Concepts in Chinese Thought and Culture. FLTRP will grant an exclusive right for Palgrave Macmillan, a global academic publisher and part of Springer Nature, to publish and distribute the book series worldwide in print and electronic forms. This marks how both sides have expanded their partnership with the first-ever publishing project with Palgrave Macmillan in the field of humanities and social sciences.
"With a long history of civilization spanning thousands of years, China has accumulated a rich heritage of thought and culture. We are honoured to join hands with Palgrave Macmillan in interpreting the best part of the heritage to the world. The partnership represents an excellent combination of our resources and Palgrave Macmillan's expertise and global network in humanities and social sciences publishing," said Cai Jianfeng, President of the FLTRP.
"We are excited about this partnership with the FLTRP that facilitates our mission of publishing and disseminating the best research from China to the global audience. This is another milestone we have achieved in China that highlights our strength and position in social sciences publishing, along with many other partnerships in natural sciences, engineering, computer and educational publishing," said Charlotte Liu, President and Managing Director, Springer Nature, Greater China.
Under the agreement, both parties will aim to publish a series of books written by Chinese experts on the basis of the key concepts in Chinese thought and culture. Published in Palgrave Pivot, a research format that allows for a swift and flexible publication process, all books in the series will be between 25,000 and 50,000 words and rigorously peer reviewed.
"The global research in social sciences is incomplete without Chinese social scientists' voices heard and their research shared. We are proud of our joint efforts with the FLTRP to bridge the gap by launching this book series to enrich the global social science study and help the world understand China better," said Myriam Poort, Editorial Director, Social Sciences and Humanities, Springer Nature.
As a publisher of high-quality, peer-reviewed research, Palgrave Macmillan launched in 2015 a campaign called Social Science Matters to highlight social sciences' valuable contribution to society and champion original, authoritative and interdisciplinary research in this field. "We are pleased to have this book series as an important part of the campaign," added Myriam Poort.
"Key concepts in Chinese Thought and Culture" is also a project launched by China's State Council in 2013 to spread the core values of Chinese thought and culture at home and abroad, with the FLTRP being the only publisher of the project.
It has been years since the predecessors of Springer Nature worked together with the FLTRP to fulfil readers' increased demand for the best content through a range of co-publishing efforts, including the well-known textbook series New Standard English and Nature: The Living Record of Science, a ten-volume bilingual collection of the most influential papers published by Nature.
Photo: The agreement was inked by Myriam Poort and Cai Jianfeng. Copyright: FLTRP
ENDS
For more information contact:
Zhang Li
Senior Corporate Communications Manager, Greater China
T: +86 21 2422 5047
E: li.zhang@springernature.com
Notes for Editors

About FLTRP

Founded in 1979 by the Beijing Foreign Studies University, the Foreign Language Teaching and Research Press (FLTRP) has since grown into the largest foreign languages publisher and university press in China, ranking 3rd in sales turnover among all the publishing houses in China.

FLTRP started as a language education publisher and has expanded into more subjects and more areas. The formats of its products have extended from print to digital and mobile. Its publications range from academic and educational works, to humanities and social sciences, natural sciences, and to the mass reading and children's books. www.fltrp.com
About Palgrave Macmillan

Palgrave Macmillan publishes award-winning research which changes the world across the humanities, social sciences and business for academics, professionals and librarians. It offers authors and readers the very best in academic content whilst also supporting the community with innovative new formats and tools.

With offices in London, New York and Shanghai, and sales teams across 50 countries, Palgrave Macmillan has a global reach. As part of Springer Nature, the company is proud to uphold an unbroken tradition of over 170 years of academic publishing. www.palgrave.com

About Springer Nature

Springer Nature is a leading global research, educational and professional publisher, home to an array of respected and trusted brands providing quality content through a range of innovative products and services. Springer Nature is the world's largest academic book publisher, publisher of the world's most influential journals and a pioneer in the field of open research. The company numbers almost 13,000 staff in over 50 countries. Springer Nature was formed in 2015 through the merger of Nature Publishing Group, Palgrave Macmillan, Macmillan Education and Springer Science+Business Media.

Visit www.springernature.com and follow @SpringerNature.