Springer Nature launches enhanced Metadata Downloader for book and journal metadata updates and title lists
Librarians to benefit from increased metadata quality and new features, such as the option to download journal metadata and to bookmark their settings to save time on repeated tasks
Heidelberg | London, 31 January 2018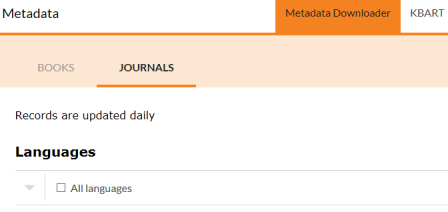 ​​​​​​​An enhanced Metadata Downloader which will replace the current MARC downloader has now been launched by Springer Nature. This improved web tool provides librarians and library cataloguers with easily downloadable metadata updates which can be embedded into library catalogues, as well as title lists for a library's licensed content.

New features of the web tool include various download options for journal metadata, alongside the available metadata for eBooks. In addition, the Metadata Downloader allows users to bookmark their settings, which will help them to save time on repeated tasks performed with the Metadata Downloader.

With the launch of the Metadata Downloader, Springer Nature also increases the frequency of available data updates for books and journals hosted on its content platform SpringerLink. The records are updated on a daily basis which helps to further improve the metadata quality. In addition to using the web tool, the data can also be downloaded in static KBART format.

Before developing the enhanced version, Springer Nature conducted 25 interviews with librarians to get further insight into their user experience and to identify pain points to address during the development phase. Taking the user experience into consideration, the existing user interface has been revised to improve the usability, but has not been changed entirely to ensure that users who are familiar with the MARC downloader will not encounter any problems when starting to work with the enhanced version.

Using the Metadata Downloader librarians and library catalogers can manually download metadata updates and title lists for Springer, Palgrave and J.B. Metzler eBook Collections, Springer and Palgrave Book Archives, Reference Works, SpringerProtocols and Springer journals. Besides data for contemporary content, the Metadata Downloader also provides archival data.

"The enhanced version of the Metadata Downloader underlines Springer Nature's mission to advance discovery: For researchers, it is crucial to have access to excellent content, and also to easily find relevant research to support their daily work. Various studies and the results of online usage statistics prove that cataloguing eBooks and journals increase their usage drastically. To support librarians in this cataloging effort, it is our central mission to provide them with best quality open metadata with state-of-the art (semantic) enrichment in all relevant format standards," said Christina Hoppermann, Senior Manager Metadata and Knowledge Models at Springer Nature.

The Metadata Downloader is part of Springer Nature's dedicated admin portal which can also be reached via Springer Nature's Librarians' website. The Metadata downloader can also be accessed directly via: metadata.springernature.com.

The MARC downloader, the predecessor of the Metadata Downloader, was established by Springer in 2011 to improve the quality of metadata for its eBook collections. Since then, the web tool has been continuously improved to meet the changing needs of the research community.
Image: Screenshot of the new Metadata Downloader | © Springer Nature
About Springer Nature
Springer Nature advances discovery by publishing robust and insightful research, supporting the development of new areas of knowledge, making ideas and information accessible around the world, and leading the way on open access. Key to this is our ability to provide the best possible service to the whole research community: helping authors to share their discoveries; enabling researchers to find, access and understand the work of others; supporting librarians and institutions with innovations in technology and data; and providing quality publishing support to societies.

As a research publisher, Springer Nature is home to trusted brands including Springer, Nature Research, BMC, Palgrave Macmillan and Scientific American. Springer Nature is also a leading educational and professional publisher, providing quality content through a range of innovative platforms, products and services. Every day, around the globe, our imprints, books, journals and resources reach millions of people.
For more information, please visit springernature.com and @SpringerNature.
Further information
Link to the Metadata Downloader
Link to the Springer Nature Librarians' website
Contact
Melanie Lehnert | Springer Nature | Communications
tel +49 6221 487 8122 | melanie.lehnert@springernature.com