Springer Nature announces 18% fall in net carbon emissions, as it publishes its 2018 Responsible Business Report
The report sets out the steps Springer Nature is taking to manage its own environmental and social impacts.
London, 28 March 2019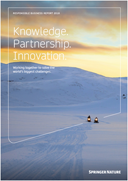 Springer Nature today launches its Responsible Business Report for 2018. The report outlines how Springer Nature – the world's largest publisher of open access research, publisher of Nature and parent of Macmillan Education – helps the research, education and professional communities it serves to advance discovery and learning, and sets out the steps it is taking to manage its own environmental and social impacts.

CEO Daniel Ropers commented: "Many of us who work for Springer Nature, as well as many in the communities that we serve, are motivated to make the world a better place through the acceleration of knowledge. We believe that research is fundamental to helping society address the challenges of sustainable development.
"As publishers of ground breaking advances in climate, energy and sustainability research, we know how important it is for collective action, by individuals and organisations, to reduce overall environmental impacts. That's why we have reflected on our own operations and have taken significant steps to reduce the environmental footprint of our business. By tripling the proportion of renewable energy we use to power Springer Nature, as well as implementing energy efficiency measures in several of our sites, we have reduced our carbon emissions by 18% (net) since our first Responsible Business Report a year ago. There is much more we are working on, but I am proud of what we have achieved in a short space of time."

Springer Nature's Responsible Business report covers the most significant areas where the company feels it can make a positive contribution to the United Nations Sustainable Development Goals (SDGs), including:
Addressing grand challenges: through new publications such as Nature Sustainability, Sustainable Earth and the Springer Sustainable Development Goals Series, Springer Nature is disseminating new discoveries to find new solutions to global issues. We also report on how the company is managing operational risks and reducing its environmental impacts.
Diversity and inclusion: we recognise the need for greater diversity and inclusion both in our own workplaces, and in the research community whose content we publish. In 2018, Springer Nature agreed targets for a better gender balance in its global leadership tiers.
Publishing robust research that is openly accessible: as custodians of the scientific record, we publish thousands of new discoveries each month. We are committed to open access (OA) research, are the world's largest OA research publisher and continue to innovate with tools such as SharedIt and our recently announced partnership with ResearchGate.
The full report can be downloaded at www.springernature.com/responsiblebusiness

About Springer Nature Group
Springer Nature is a leading research, educational and professional publisher, providing quality content to our communities through a range of innovative platforms, products and services. Every day, around the globe, our imprints, books, journals and resources reach millions of people – helping researchers, students, teachers and professionals to discover, learn and achieve more.

Through our family of brands, we aim to serve and support the research, education and professional communities by putting them at the heart of all we do, delivering the highest possible standards in content and technology, and helping shape the future of publishing for their benefit and for society overall.

Visit: www.springernature.com/group and follow @SpringerNature.

Enquiries
Thea Sherer

Director of Group Communications

T +44 (0) 207 843 4703